Books
Fellow lovers of sporting literature:fishing
This list offers a wide variety of books which I have been involved with as author, co-author, editor, compiler, or contributor. They cover an array of outdoor-related subjects which reflect my own diverse interests, and hopefully among the works you will find an item or two which intrigues you.
I always inscribe books unless otherwise instructed, and of course I would be delighted to personalize them in any way you suggest. Postage and handling is $5 for the first book and $2.50 for each subsequent book up to $12.50. Insurance is STRONGLY RECOMMENDED for all orders, and sender cannot be responsible for lost books. Accordingly, I recommend insurance ($2.50 for the first $100 and $1.25 for each subsequent in value).
To order, simply complete our On-line Order Form or contact Jim Casada, 1250 Yorkdale Drive, Rock Hill, SC 29730-7638; Phone 803-329-4354; Fax 803-329-2420; E-mail jc@jimcasadaoutdoors.com.
---
THE PREMIER COLLECTION
The Premier Collection was an outgrowth of the early focus of Sporting Classics magazine. At the outset the books were chosen by an Advisory Committee of four individuals associated with the magazine. Later, when the magazine ran into financial trouble when John Culler was publisher, the venture capitalists behind Premier Press "pulled" the operation. This was sometime in late 1989 or 1990. From that point on for a time I chose the books, wrote most of the forewords, or when that was not the case selected the person who did write them. Ultimately, in 1995, John Culler and his son, Wade, managed to get the series back. At that point my involvement came to an end. They also began using slightly lower quality materials and the new material at the outset of the book, an important feature of every volume up to this point, disappeared. This was almost certainly a cost-saving measure. I feel fairly certain that the 50 titles listed are all that were published, but given the fact I had no involvement in the final years of the series I cannot state definitively that such is the case.
As the list reveals, it soon becomes obvious that there was not a great deal of consistency in the number of volumes published annually. The original goal had been four reprints per annum, but financial problems in the form of unpaid printers and binders intervened. Also, it should be noted that in virtually all cases fewer, often far fewer, than the stated 3,000 books of the specified limited edition were printed. In some of the later years the print run might not have been more than half or even a third of that number. This is the case despite some numbers which are much higher, because subscribers to the series got the same number each time. Thus, an individual who started with #2711, for example, would always get that number even if far fewer actual volumes were printed.
Here is a listing, alphabetically and with limitation numbers provided, of the volumes in the series I have for sale. Also, for reference, this is followed by a complete chronological listing of all the books in the Premier Collection.
---
MISCELLANY
Rifle and Pistol Marksmanship Primer
In recent years I've done considerable work for Palladium Press as the Editor of their Firearms Classics Series that reprints great gun books. Building on the success of that series, they asked me to edit and compile a rifle and pistol marksmanship primer. The result is a work entitled The Marksmanship Primer. The 480-page book includes information and insight from many of the greatest authorities on accurate shooting – Charles Asks, Jack O'Connor, Townsend Whelen, Bryce Towsley, Wayne Van Zwoll, and a host of others – along with my editorial input. Paperbound, $17.95.
A New History of the NRA
Jeffrey L. Rodengen, NRA: An American Legend (Foreword by Tom Clancy). Ft. Lauderdale, FL: Write Stuff, 2002. Hardback. xii, 304 pp. Lavishly illustrated, coffee table size. I served as the chief researcher for this book and actually did much of the draft writing of the history. $39.95.
Important Deer Camp Book
The Great American Deer Camp. Minnetonka, MN: North American Hunting Club, 1999. Hardback. 224 pages. Lavishly illustrated. A collection of eight long stories covering deer camps across the country. I wrote the section covering the South, Southern Ridgetops and Riverbottoms. Only $20.
---
NASH BUCKINGHAM
Theophilus Nash Buckingham (1880-1971) ranks as one of the great sporting scribes of the 20th century, and when it came to waterfowl and quail, along with mastery of dialect, he was a literary master. He lived a wonderful life, basically burning through his inheritance, money he made in his younger years, and his wife's inheritance before dying with the wolf of poverty howling at his back door. Yet his 90-plus years of life were filled with whirring wings, staunch points, wonderful companions, and the heady aroma of burnt gunpowder. His was an existence many of us can only envy, and at his best he was a storyteller for the ages, and I would rank him among my top five favorites on the outdoors.
Here is a list of books, most of them recently acquired, by and about him. They are priced right and for anyone familiar with the writings of Mr. Buck they represent plenty of armchair adventure.
GEORGE BIRD EVANS
Without question, George Bird Evans ranks as one of the major figures in upland shooting literature of the 20th century. He was a masterful writer, a fine researcher, and a man who figured out fairly early in life how to make a living doing precisely what he loved. However, I would be less than honest if I didn't admit that certain things about him give me pause. He was unquestionably an elitist, and for someone like me, raised in the simplest of circumstances and close to the good earth, that fact sounds an "off" note. Similarly, it is my personal opinion, one shared by some knowledgeable bird dog men of the first water, that he hyped and hoorahed his Old Hemlock line of setters a bit more than they deserved. That being said, different strokes (and dogs) for different tastes make sense.
There was also an exceptionally mercenary side to the man, exemplified by a personal experience I had with him. I had written glowing reviews of two or three of his books (and they merited every word of praise) for Sporting Classics magazine when I got the idea that an article on "The Grand Old Man of Grouse" would be appealing to a fairly wide readership. Accordingly I pitched the concept, got a "go ahead" on the assignment from a magazine editor, and called the Evans household quite excited about the opportunity. That delight soon turned to dismay. I was bluntly asked by Kay (it was virtually impossible to get through her to talk to her husband): "What's in it for us?"
At first I wasn't sure what she meant and then I realized she was talking about monetary payment. I stumbled a bit and muttered something to the effect of "Nothing, other than due recognition of George's literary achievements." I was told to call back in a couple of days, which I did, and at that juncture was bluntly informed that there didn't seem to be any return in such a piece for them and, besides, my title, with the word "Old," was inaccurate (Evans was well into his eighties at the time). I'd be less than honest if I didn't say it left a sour taste.
Nonetheless, I recognize a masterful literary craftsman when I see one, and certainly Evans was such a man. He may have killed the same grouse time and again in print, but he did it with such eloquence and style, indeed sometimes with panache, that it scarcely mattered. His books are and will remain little jewels, and thanks to the fact that many of them were done in quite limited editions, they are rare and promise to become even more so with the passage of time. Here's a nice selection of them.
ASIAN HUNTING
In an ongoing, uneven struggle to find space for all the books in my library without losing the ability to maneuver through the house, I have decided to sell those volumes in my collection relating to Asian sport and natural history. You will also find a few books focusing on other geographical locales. They are listed, in alphabetical order by author, here (PDF file).
GUNS AND HUNTING
This is a small selection of books (PDF file), many of them obscure or unusual items, dealing with guns, hunting or sporting collectibles. They are priced to sell, and this is the first of what likely will be a periodic offering of a few dozen items as I sort out my library and weed out duplicates or volumes outside my main areas of interest.
ERNEST HEMINGWAY
I'm now offering a listing of almost 50 books by and about Hemingway. Take a look at what's available here (PDF file.)
THEODORE ROOSEVELT
One of our greatest presidents, and without question the greatest sportsman ever to occupy the White House, Roosevelt lived what he styled "the strenuous life" to the fullest. Along with devoting his energies to politics and sport, TR was a prolific writer. Here's a sampling of books by and about him (PDF file).
TURKEY HUNTING
Over the years and in connection with both collecting and selling turkey books, I have put together an extensive bibliography of books devoted wholly or in appreciable measure to the subject. I've been putting together a limited edition of the information, which should be an invaluable guide to anyone who really cares about the literature of the sport. If you are interested, let me know.
Below are several noteworthy turkey hunting items; however, be sure to check out the complete list (of over 200 items).
A Southern Sportsman: The Memoirs of Henry Edwards Davis
Henry Edwards Davis is best remembered as the author of The American Wild Turkey, a work published in 1949 which many feel is the finest single volume ever written on the subject. Yet Davis was much more than an accomplished turkey hunter. He was a skilled craftsman whose favorite call (which he made) sold a couple of years back for $55,000, the highest price ever paid for a turkey call. He was a fine wood worker, a gunsmith who made many of his own guns, and as this new book reveals, a sportsman for all seasons.
At some point in the 1950s Davis wrote his sporting memoirs and his secretary (he was a lawyer by profession) carefully took his handwritten account and turned it into a lengthy typescript. At that point in time Davis was unsuccessful in finding a publisher interested in the book, although just why this would have been the case, given the fascinating contents of the book, is a mystery to me.
The manuscript languished in obscurity for a half century, although there were several copies floating around (I have had a photocopy for perhaps 20 years). Then a retired South Carolina game warden with a nose for research and a willingness to work ferreting out every possible detail, Ben Moise, took the project in hand. The result is a lovely book, nicely produced by the University of South Carolina Press.
My connection with the project involved the writing of a Foreword offering a biographical appreciation of Davis along with providing a bibliography and some of the photos used in the book. I've been a student of Davis for years and, as a collector, have accumulated various items connected with his career.
The book has a bit of everything. If you are a fan of wings (or well-endowed young women), the title of one chapter, "Hunting the Hooters," will immediately catch your eyes. Rest assured it has nothing to do with the popular chain restaurant with its scantily clad waitresses; instead, Davis lived in a time when it was legal to hunt owls; and he did so with a vengeance. Similarly, there's a chapter on hunting hawks, one devoted to the quest for bobcats, and plenty of somewhat more predictable fare in the form of coverage of hunting whitetails, squirrels, quail, and, of course, turkeys.
The gun nut will find plenty of interest, inasmuch as Davis was a man greatly interested in flat-shooting rifles, the performance of various cartridges, the eternal argument of shotgun versus rifle for turkeys, and the like. All in all this is a delightful book which takes the reader back to a hunter's experiences spanning a period from late in the 19th century (he hunted with Confederate veterans) to mid-20th century.
I've got it in stock, signed by both Moise and me. The 400+ page book is $29.95 plus $5 shipping and handling, and I think you'll agree with me that it takes the reader back to a world we have largely lost in extraordinary fashion.
You can order by sending a check or money order to Jim Casada, 1250 Yorkdale Drive, Rock Hill, SC 29730-7638 or through my Web site using PayPal.
---
Limited Edition, Matted and Framed NWTF Prints
Framed and matted "Artist of the Year" NWTF prints. Each is signed by the artist, each includes a copy of the NWTF stamp for that year, and the matting and framing is top-level professional quality using acid-neutral materials. You can check major wildlife art galleries and discover that their prices for the print alone (without the stamp or the matting and framing) will be equivalent to or somewhat higher than my asking price. Matting and framing in comparable quality would come to at least $100 for each of these.
1980—Walter Wolfe—"Explosion in Corn"—136/600 – $715

1981—David Maass—"Majestic Trio"—136/3200 – $200

1982—Robert Abbett—"Autumn Monarch"—136/1600 – $150

1984—Richard Plasschaett—"Nature's Legacy"—136/1300 – $300

1985—Ned Smith—"Royal Domain"—136/1995 – $700 (this is the most desirable and collectible of all NWTF prints and perhaps of all wild turkey prints)

1986—Ken Carlson—"Bearded Bronze"—136/1500 – $175

1987—Jim Killen—"The Clearing"—136/1000 – $200

1990—Arthur Anderson—"Spring Blossoms"—136/1000 – $350
If you want the entire matched numbers set the price is $2000 (a savings of $250) over the individual cost for the prints, and I'll pay the shipping.
Other Framed Items
2005—Matted and framed stamp print. Includes signed copy (by Melissa Ball) #161 of 2300 of Presidential Edition of the 2005 print, with two copies of the 2005 NWTF stamp and a single copy of the stamp in gold below. Beautifully matted and framed. $175.
TO ORDER PRINTS, contact Jim Casada, 1250 Yorkdale Drive, Rock Hill, SC 29730-7638; Phone 803-329-4354; Fax 803-329-2420; E-mail jc@jimcasadaoutdoors.com.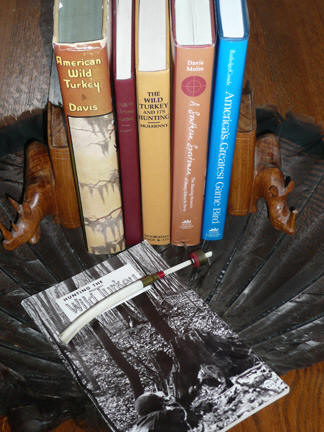 ---
ROBERT RUARK BOOKS
Anyone who has read much in the way of musings by this simple sporting scribe knows that I consider Robert Ruark our greatest American outdoor writer. Of course he was a masterful newspaper columnist and the author of several blockbuster novels as well.
I'm proud to have had the opportunity to edit two books on him, The Lost Classics of Robert Ruark (see "Anthologies" section below) and Ruark Remembered by his longtime secretary Alan Ritchie.
Click here to view a whole bunch of copies, in both paperback and hardback, of his books. If you just want a readily available reading copy, the paperbacks are the way to go, but for serious bibliophiles or Ruark collectors, the hardbacks likely will have more appeal.
---
ARCHIBALD RUTLEDGE BOOKS
As a student and admirer of Rutledge, I try to obtain copies of his books and related material whenever possible. He's clearly popular, as such items are becoming increasingly difficult to find. Below are several noteworthy items; however, for a complete list of almost 100 items, including lot of recent additions and a number of truly obscure Rutledge items, click here.
The Rutledge Quartet
Jim Casada (ed.), Hunting and Home in the Southern Heartland: The Best of Archibald Rutledge. Columbia, SC: USC Press, 1992. Hardback in dj. xii, 263 pp. Thirty-five of Rutledge's most enduring stories told as only he could relate a tale. Includes my detailed input on Rutledge the man, commentary on the stories, a full bibliography, and other information. Armchair adventure at its best. $29.95.
Jim Casada (ed.), Tales of Whitetails: Archibald Rutledge's Great Deer Hunting Stories. Columbia, SC: USC Press, 1994. Hardback in dj. xii, 281 pp. Thirty-five of Rutledge's great deer hunting stories with my editorial input similar to that noted above. A must for those who cherish great storytelling or deer hunting. $29.95.
Jim Casada (ed.), America's Greatest Game Bird: Archibald Rutledge's Great Turkey-Hunting Tales. Columbia, SC: USC Press, 1996. Hardback in dj. Xii, 211 pp. Thirty-four of Rutledge's great stories covering the joys and sorrows of the turkey hunting experience. As with the above books, I wrote a lengthy appreciation of Old Flintlock as a turkey hunter along with providing much other information. $29.95.
Jim Casada (ed.), Carolina Christmas: Archibald Rutledge's Enduring Holiday Stories. Columbia, SC: University of South Carolina Press, 2010. Hardback in dust jacket. xviii, 225 pages. Illustrated. $29.95.
Special offer: All four USC books for $115 postpaid.
A Noteworthy New Rutledge Item
Dorothy Stone Harmon, Archibald Rutledge: The Man and His Books. With a Bibliography by David Cupka and a Foreword by Jim Casada. Piedmont, SC: Bookquest, 2003. Hardback in dj. [xvi], 174 pp. Illus. Limited, numbered and signed edition of 224 copies, with an original items signed by Rutledge in a slip pocket at rear of book. This book is an interesting combination of a short biographical overview (pp. 1-82) featuring extensive use of quotations from Rutledge's writings, a detailed descriptive bibliography of his books (pp. 83-100), and reproductions of selected materials such as letters and original poems, from the Dorothy Gaston collection of Rutledge material (pp. 101-175). Ms. Gaston was Rutledge's longtime secretary and dear friend. A real treasure and a must for any serious fan of Rutledge. $125.
Feel free to ask for details of the original items in the slip pocket. I have several copies with different items, and of course I'd be glad to sign and inscribe the book.
Rutledge Anthology
One of my major projects over the last couple of years has been compiling and editing another Rutledge anthology. This one, entitled Carolina Christmas: Archibald Rutledge's Enduring Holiday Stories, is NOW AVAILABLE!
The 248-page hardback book, which includes a number of illustrations from my collection and from Rutledge family sources, is selling for $29.95 plus $5 shipping and handling.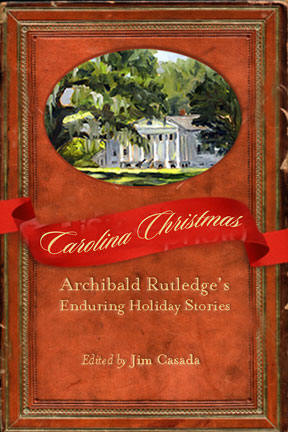 The photo seen here is of the book's dust jacket, and I hope to get a sampling of the contents up on my Web site in the next month or so. Meanwhile, I can tell you that the theme of the book revolves around the holiday season and the Hampton Hunt. For all the thirty-three years he was an "exile" teaching at Mercersburg Academy in Pennsylvania, Rutledge lived for the three weeks or month around Christmas when he and his family could return to South Carolina. In this book you will read moving tributes to the season, to his parents, his black "Huntermen," his sons, and deeply rooted sporting traditions. There are sections devoted to deer hunting, nature, small game, and more.
The book also includes a concluding chapter focusing on festive foods of the holiday season at Hampton. While Rutledge, to my knowledge, only published two recipes over the course of his long career, he wrote about food with great regularity. As most of you know, my wife and I have a keen interest in culinary matters and have written or edited a number of cookbooks. With that background we have researched old-time Lowcountry recipes and developed a number of our own which give readers of this book a festive sampling of holiday fare as it was enjoyed at Hampton. I'm delighted with the way the book turned out and I think you will be as well. Order now.
Another Rutledge Book in Progress
I might also mention that at present I have another book on Rutledge under contract. This one is a truly a major project—a full biography. Let me know if you want to get notice of this when completed.
---
JACK O'CONNOR BOOKS
The best known of America's 20th century gun writers, O'Connor was a prolific scribe whose life's work included an impressive number of books.
On this list are the duplicates I have in stock, and note that some new items appear at the bottom as well.
---
DERRYDALE PRESS BOOKS
The original Derrydale Press, not the modern reincarnation with its comparatively inferior (quality-wise) reprints, was the brainchild of Eugene V. Connett. A gifted writer and devoted sportsman, Connett believed that there was a select group of affluent and dedicated sportsmen who would be willing to pay premium prices for beautifully done, limited edition works. Most of the Derrydale Press publications appeared at an inauspicious time, economically speaking (the 1930s), but they were aesthetically delightful, and in many cases wonderfully written, books. Names of some of our finest American outdoors writers and artists figured in Connett's stable of contributors, and today the Derrydales are widely recognized among sporting book lovers as precisely what they were—the epitome of quality.
Decades ago I began collecting/accumulating Derrydales, and over time and through lots of diligent searching I managed to acquire a goodly number of these treasures. This included numerous duplicates and I'm finally getting around to selling those "extras" at prices you will find far lower than what these frequently are offered for. Here's what I have, with detailed individual descriptions.
To Order:
These Derrydale Press books are not itemized on the online order form; however, please feel free to use the form and enter titles and amounts in the "Other, Please Specify" fields provided OR contact Jim Casada, 1250 Yorkdale Drive, Rock Hill, SC 29730-7638; Phone 803-329-4354; Fax 803-329-2420; E-mail jc@jimcasadaoutdoors.com.
---
AFRICANA
Africana continues to be highly collectible, and there are many choice titles, not to mention plenty of obscure ones. I have items available from and/or about Sir Samuel W. Baker, Sir Richard F. Burton, Peter Hathaway Capstick, Frederick C. Selous, Wilbur Smith, and Henry Morton Stanley. I also offer a number of other special Africana collectibles.
Below are listed a few choice items; however, for a complete list (of over 700 items) download the Main African List.
Special Items
Jim Casada (Editor), Sporting Book News. 1987-88. First three issues (all published). Set of the three issues. $60 (only one available). Also available additional copies of issue two and three, featuring lead articles on Fred Selous and Denis Lyell, respectively. $20 each.
F. R. N. Findlay, Big Game Shooting and Travel in South-East Africa (with a new Foreword by Jim Casada). Camden, SC: Briar Patch Press, 1990. xxvi. 313 pages. Illustrated, index. Leather bound, all edges gilt, Smythe-sewn, ribbon marker, marbled end papers. As new. I'll inscribe if desired. $75.
Edouard Foa, After Big Game in Central Africa (with a new Foreword by Jim Casada). Camden, SC: Briar Patch Press, 1987. xxxiv, 326 pages. Illustrated. Full leather, all edges gilt, Smythe-sewn, ribbon marker, marbled end papers. As new. I'll gladly inscribe. $75.
---
THE AFRICAN COLLECTION
from Briar Patch Press
Beginning in late 1986, and building on the positive reception accorded the books in the Premier Press Series, Premier Classics, from Sporting Classics magazine, that publication launched another set of reprints. This time the focus was classic works on African sport. If anything, I was even more intimately involved in this effort than with the Premier Classics. I selected all the books, personally wrote the introductory material for almost half of them, assisted in obtaining originals of the books for reprinting (some, most notably Count Josef Potocki's Sport in Somaliland and William Finaughty's Recollections, were extremely rare), and generally was a critical part of the undertaking.
There was one significant difference in the African Classics and those for the earlier Premier Classics. The books were reprinted in two formats—an unnumbered edition bound in leather with most of the hallmarks of a fine book such as marbled endpapers, all edges gilt, ribbon markers, raised hubs, and the like and a limited, numbered edition of 500 copies. The latter were truly "done right" in every sense of what constitutes a sterling example of the book publishing art. They featured full calf leather binding, sturdy linen slipcases in an attractive beige color, lovely gold inlay work on the titles and front cover, with artwork by Kay Jackson in addition to original illustrations.
For a complete list download the African Collection, Briar Patch Press.
---
COOKBOOKS
This beautiful book by Jim and Ann Casada, Field to Feast: The Remington Cookbook, is intended to round out the Remington story as a sort of companion to The Art of Remington Arms and Remington, America's Oldest Gunmaker. Jim and Ann wrote the book drawing on experience they have garnered over the years in enjoying the results of hunting and in the preparation of a number of prior cookbooks. $35.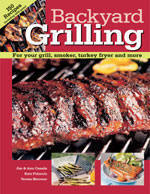 In Backyard Grilling, Ann and I join two other nationally known cookbook authors, Kate Fiduccia and Teresa Marrone, in sharing 150 scrumptious recipes on grilling, smoking and deep frying. Along with all sorts of tips and suggestions, these recipes offer a simple, straightforward road map to being king or queen of the culinary arts in your own backyard. Now available for $21.95.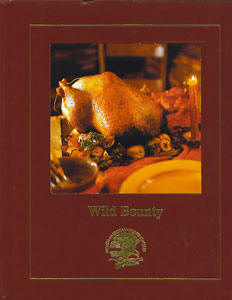 Wild Bounty: Outdoor Feasts, Game Flavors is published in a lavish format by the North American Hunting Club. The book features some 250 recipes, scores of color photographs, and numerous hints on handling and preparing game. Bound in an attractive maroon hardcover and fully indexed, the book is in every sense a handsome one of which we are quite proud. At a bargain rate of only $20, it promises plenty of fine eating while providing visual appeal. The Southeastern Outdoor Press Association recognized it as one of the top three outdoor books in the region for 1999-2000.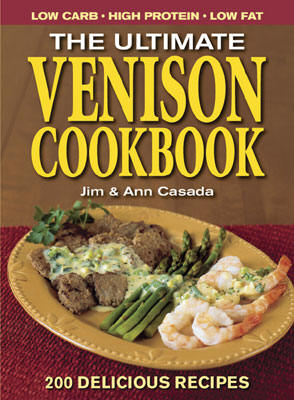 For some time Ann and I have been contemplating doing another venison cookbook, and that now has moved to published fruition with the recent appearance of The Ultimate Venison Cookbook. It is a 208-page sequel, with lie-flat comb binding and 200 all-new recipes, to our popular The Complete Venison Cookbook. The work includes complete menus, a chapter on health-smart venison meals, and all sorts of tips on handling and preparing this delicious meat. The book is only $15. OUT OF STOCK.
Read an excerpt from the book about readying your deer for the table.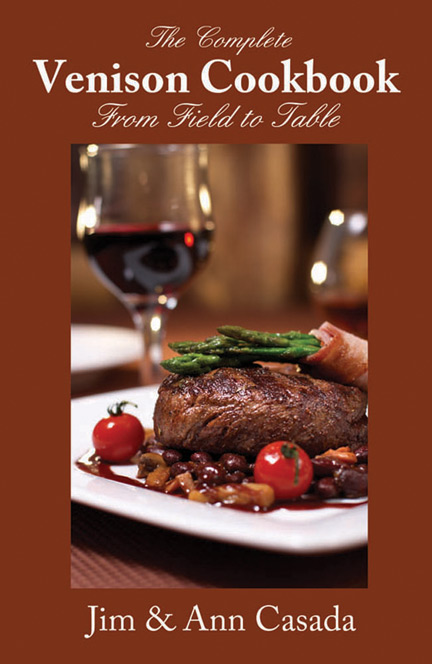 The Complete Venison Cookbook. Iola, WI: Krause Publications, 1995. Comb-bound. 208 pages. Illus., index. More than 250 scrumptious original recipes on the preparation of venison. Our best-selling book ever. We tested every recipe and ate venison twice a day for six months while doing the book. A real bargain at $12.95.
From Campsite to Kitchen: Recipes and Traditions from America's Great Outdoors. Memphis, TN: The Wimmer Company, 1994. Comb-bound with hard boards. Illus. by Peter Ring, index. 254 pages. Favorite recipes from America's best-known outdoor writers, with eight stories I wrote thrown in for good measure. Some 300 game, fish, and wild foods recipes. $15.95.
Outdoor Tables and Tales: Recipes and Food Memories. Memphis, TN: The Wimmer Co., 1992. Comb-bound with hard boards. 236 pages. Illus., index. Similar to the above work, except all the recipes come from Southern writers. I was a major contributor. $15.95.
---
FISHING
Fly Fishing
From the standpoint of experience and first-hand knowledge, there's nothing connected with the wonderful world of the outdoors with which I have greater familiarity than fly fishing. It was my great good fortune to grow up in a family of fishing fools, and some of my earliest memories of childhood focus on angling experiences. A half century has come and gone since those first footsteps in the world of fly fishing, but my passion for the sport remains unabated. Fifteen years ago or so I wrote an award-winning book, Modern Fly Fishing, on the subject for the North American Fishing Club. Now I have distilled a lifetime of experience into a basic primer, Beginner's Guide to Fly Fishing, on the subject. It is a pleasure to offer the book at a very reasonable price of $12.95 plus postage and handling. Of course I'll be delighted to sign and inscribe copies, and the book would make a great gift for anyone interested in this delightful approach to angling.
Jim Casada, Modern Fly Fishing. Minnetonka, MN: North American Fishing Club, 1993. Hardback, fully illustrated. 234 pp. This is an award-winning primer touching all aspects of the sport from equipment to tactics and techniques for specific species. It offers information for the beginner and advanced fly fisherman alike and is based on a lifelong passion which began with a marvelously misspent childhood in the Smokies and has continued to the present. $20. [out of stock]
General Fishing
The Best of North American Fisherman: A Fishing Journey. Minnetonka, MN: North American Fishing Club, 2003. Hardback. Fully illustrated. 160 pages. Index. A Great collection. Includes my piece, "Appalachian Troutman," on the great Smokies fisherman, Mark Cathey.
---
ANTHOLOGIES
Other Anthologies from Great Writers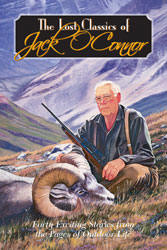 Since boyhood I've been a great fan of Jack O'Connor, the greatest gun and hunting writer of the 20th century. Finally that interest has come to published fruition in a book entitled The Lost Classics of Jack O'Connor. This work follows a format similar to that used in The Lost Classics of Robert Ruark. I selected some 40 of O'Connor's finest stories; none of them ever published in book form. I've also included detailed information on the man, a full bibliographical essay, and other material. The book includes extensive color and black and white photos. The Lost Classics of Jack O'Connor is available in a hardbound trade edition of almost 400 pages for $35 or a limited, numbered edition of 750 copies, bound in genuine leather and housed in a slipcase, for $150. The limited edition includes four extra stories and is signed by his son, Bradford O'Connor.
Jim Casada (ed.), The Lost Classics of Robert Ruark. Long Beach, CA: Safari Press, 1996. Hardback in dj. Xviii, 260 pages. Illus., bibliographical essay. A collection of 27 of Ruark's tales that have never before appeared in book form, including 10 Old Man and the Boy stories. I contribute a lengthy appreciation of Ruark and considerable other material. $35.
Horace Kephart, Sporting Firearms (edited and compiled, with introductory commentary, by Jim Casada). Birmingham, AL: Palladium Press, 2004. Hardback. Leatherbound with raised hubs, all edges gilt, ribbon marker, and all the other attributes of a fine book. Xviii, 255 pages. A compilation of the writings of Kephart, a noted pioneer in ballistics and other shooting fields, with coverage of Hawken rifles, hunting rifles for big game, and related subjects. If you aren't familiar with the writings of Kephart and are a firearms enthusiast, you are missing something. $35. OUT OF STOCK.
Jim Casada (ed.), Forgotten Tales and Vanished Trails. Birmingham, AL: Palladium Press, 2001. Hardbound in full leather. Xviii, 208 pages. A collection of hunting and conservation writings by Theodore Roosevelt that do not appear in his books. Includes my lengthy essay on the man as a hunter and conservationist along with other editorial input. This book was recognized as the outstanding outdoor volume written in the Southeast in 2001. Only $40.
Jim Casada and Chuck Wechsler (editors), Last Cast and Stolen Hunts. Traverse City, MI: Countrysport Press, 1993. My choice for 21 of the finest outdoor tales even published. I include short sketches of the author and introduce each story. Hardback in dj. Xiv, 270 pages. Illus. $25. I also have a deluxe, limited edition (only 350 number copies published) of the above work. Fully leather binding with all the attributes of a fine book, housed in a sturdy linen box. $100. A lovely item.
Jim Casada (ed.), Selous: A Hunting Legend. Long Beach, CA: Safari Press, 2000. Xiv, 188 pages. Illus., bibliog. The second volume and sequel to the above work. Limited, numbered and signed edition of 1000 in slipcase. $75. OUT OF STOCK. Still have trade editions available for $35.